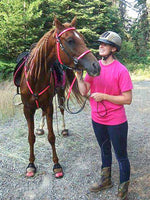 I was on the phone last week with one of your sales reps asking about shipping on one of the products I ordered, and during my discussions it was brought up that you guys haven't got a lot of feedback from customers on your sight. I thought I would sit down for a minute and give you some positive feedback. I  was introduced to your products through a lady that does holistic horse care that I have been working with for years. She turned me to your sight a year ago.  Up until a year ago all my horses where only on Dynamite horse products. I do endurance riding and just picked up two 4 year old arabs that we are hoping to do Tevis with in about 3 years time ( one of the hardest 100 mile rides you will ever do in 24 hours). I have noticed with the herb products a world of difference with my two young arabs. It has been a fun and crazy road playing with your products and testing through this last year.
SPARROW'S STORY: Sparrow came to us as a 2 1/2 year old HIGH end halter horse. He placed very well in his short halter showing year and was going to be sold as a stallion for breading. Long story short the lady had to many horses (25+) and found out we where looking for a good endurance horse. Sparrow has brothers that have competed and finished Tevis. He was gelded and sold to us. Sparrow was taken very well care of in his young years but when we started to slowly pick up the miles with training he became, as OSU liked to call him, a chronic ulcer horse. Since we have had him he has been up to OSU twice for colic and ulcer symptoms.  One of the times we assumed he somehow poisoned himself or picked up a virus. The second time we know he poisoned himself. He decided it was a good idea to eat spurge while on a trail ride. With this he is now down as having ulcers and chronic colic. With using the Tummy B Calm products the pre-ulcer signs have gone away and with doing a special blend (using the Herbal Sampling Kit he has stopped trying to treat himself with deadly plants. After his last poisoning episode we noticed he was getting very grumpy and angry. Throwing hoofs and biting when he never did any of these things before. We tested and got him on his special blend and within two weeks he was back to his happy self.
ROYAL'S STORY: Royal came to me as what you would call a unwanted child. He was sold from his breeders home and passed around for a year until he ended up in a very bad place. He was labeled crazy and dangerous. The lady who originally bred his mother found out he was destined for auction and bought him back. She brought him home and tried starting him under saddle, was bucked off, and landed in the hospital for several days. She then sent him off to training. I picked up Royal a little under 2 week into training. He was unloved, scared of people, had AWFUL feet, and was completely checked out from the world. The first day home was not a good one for me and him.
We started Royal on an herb mix right from the git go and started to detox him with clay, Izmine, charcoal, and your detox mix (Cootie Kicker). He stopped eating for 3 days. Scared the crap out of me. Went into what i would call a diabetic coma almost. Very lethargic, no energy, would go to sleep and not get up when approached. I was in utter panic. After 3 days of keeping a very close eye on him he got up and started eating like he had never eaten before in his life. It took me a year to completely detox him. He had sweet detox points on his hips that took a year to finally go away. Royal has been the hardest horse I have ever met to work with but at a year later I have to say he is the best horse I have ever had. Its been a long road for me and him.
With all of this being said every time we change things up and test again with the herbal sampling kit (about every 2 months) I see a big change in my horses. They are so healthy and checked back into life! They seem so much quicker, smarter, and happier. A healthy animal is a happy one and I have seen great changes through the year with using your products.
I thought you would like to hear my story and the great things that have become of my horses with using your products. I love them and so do my horses. Both of the horses(4 year olds) mentioned above have both completed a little over 70+ competitive miles this last summer in endurance rides and finished sound with good vet checks. I don't think this would have been possible without the information you guys have on your sight and the products you provide.
So from one happy customer...Thank you
Sincerely,
Ashley Miller