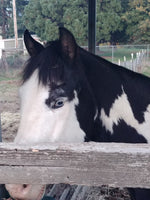 Goodbye, Old Man
This weekend we said goodbye to Max, our 29 year old paint gelding who joined our herd about three years ago and helped teach our grandkids how to ride. Max was a grump, no getting around it. But every night he ran whinnying to the gate, bucking and tossing his head, eager for his evening meal. He was pushy, bossy, full of himself, but he had a way of stealing his way into peoples' hearts and will be greatly missed.
It wasn't a surprise that Max finally joined our Heavenly Herd, because he had a very rough year this last year, and it was obvious his time was coming to an end. With every issue that popped up, I threatened to call the vet, and Max always rallied. Colics, multiple leg injuries (that old man body didn't agree with that young heart!) but in the end it was something I hadn't experienced that was the last call. It was a deep chest choke.
As typical, as soon as cold weather hit, I had been soaking all of Max's feed, hay, extra salt, etc as Max did not like to drink enough water in winter. He also was a "wind sucker". I learned from my husband (who has chronic digestive issues) that cold water hurts to drink. Max is not the first horse I've had that has had this issue. As a rule, I no longer give dry buckets to my horses. But occasionally if I'm in a hurry and they are outside eating grass, I'll give them a bit of soft pellets to munch on for a snack. This day happened to be one of those days and we think  that is where the problem started. I gave the horses a bit of pellets at lunch time, and went out shopping. When I came home to feed dinner, Max was in distress and obviously having issues. I thought perhaps he was just having another one of his gas colic episodes but I also knew it was worse than normal as he was also salivating heavily. I gave him his typical double dose of Tummy B Calm in a syringe with some added No More Pain Plus which historically dealt with his gas colic issues, and while it didn't completely "fix" things, he seemed to be more comfortable and since it was now well after dark, I decided to wait until morning to re-evaluate his situation. So after several checks during the night with no change, sadly by the next morning, he was worse. As soon as anyone would answer a phone, I was calling around to find the first person who could come out and see him. I already had the heavy feeling that it was something not easily fixable, and it was time to say goodbye to Max.
We are very fortunate in our area to have a multitude of equine vets, and so I have a few places I can call to find someone available in an emergency. Even with that, it was another 2 hours before a vet could arrive. Dr Ally was amazingly compassionate and common sense. After discussing Max's age, and all his issues in the past year (and his current condition) it was agreed that the treatment would be just be a short term "patch", with the risk of causing more damage that would cause more issues in the long run and the best choice for Max would be to have him join our Heavenly Herd.
When you do what I do, which is to take on some of the toughest rescues I can find, you have to make these decisions. I have had a few horses that made that decision for me, passing suddenly. I have also had to make the tough choice of when to make that decision for them…balancing out their issues with what makes for a happy life. Max has spent the year telling me he still wanted to be with us. But this time, I could clearly see he was "done". His body was old and tired, and it showed. As I look out my window, and see the rest of my herd, I see horses that have so much life left in them, and horses I will probably lose in the next year or two. Someone recently asked me how I do it, how I say goodbye to so many horses. It's tragic and heartbreaking, I have to admit. But its also so rewarding to give horses a space to live a little bit longer, a little bit healthier, to get to be horses, to simply be loved. I used to do all the training, lessons, etc of working horses and it was very rewarding to turn a problem horse around. I think, however, that as I've gotten older, (with my own health challenges that come with that) that I appreciate and respect the broken horses more…especially the seniors. They have stolen my heart. That is why Wild Horse Products came about, through helping broken horses become as healthy as they possibly can, and as a way to help support our herd of rescues.
This month it wasn't  just our barn that suffered a loss, but I've also heard back from a couple of customers who have lost horses as well. So this month's code is in honor of those loved ones lost. They will be greatly missed.
Use the code "HeavenlyHerd" for 10% off your next order. Feel free to share it will a friend. Use it as often as you like, until the end of the month. (5/31/22)
Give your ponies a big hug, we just don't know how long they will be with us. Make every day a memory.
Jody
WHP